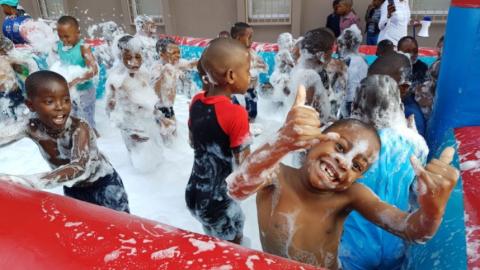 Hip, Hop, a hippity hop ,a hippity hop. BUNNYing around.
CityKidz learners hopped out of school to a magical Easter party wonderland. Fun in the sun, foam between our toes and yummy food in our tummies were the tip of the iceberg.
In the beginning learners were given a brief talk from a SANCA representative, informing them about the dangers of drug use and cigarettes. Immediately after they enjoyed their time tackling water slides and the foam pool. Jumping castles, slides and the DJ's upbeat music kept the rest of the learners entertained. Just when we thought we had all the fun a day can offer, out popped the magician who captivated the crowd of learners. Throughout the day we were truly blessed with yummy chips, drinks and pies. Each learner left the party with a gift and a huge smile radiating from their face.
Thank you to all those involved in making this Easter party a success viz; Kathy and her Team, Thalia and MMID, providing learners with a day they will always remember.  (Ms Patel)
Image Gallery: MMID Easter Party 2018
MMID Easter Party 2018
Click to view slideshow
MMID Easter Party 2018
Click to view slideshow
MMID Easter Party 2018
Click to view slideshow
MMID Easter Party 2018
Click to view slideshow
MMID Easter Party 2018
Click to view slideshow