Aftercare
KidzZone AfterCare is specifically designed for the working parent. We want to ensure that you have peace of mind knowing that your child is well taken care of. AfterCare children are cared for by committed staff, in secure surroundings, where the needs of the children is our priority. Supervision of homework by experienced staff is included. 
Enrol your child today in KidzZone AfterCare -  the Zone that Cares!
Your child is in good hands at the KidzZone AfterCare. Our facility is manned by dedicated, caring, and professional teachers.
Mrs Dudu Moyo (Supervisor)
Mrs Sibusisiwe Tshuma (Supervisor)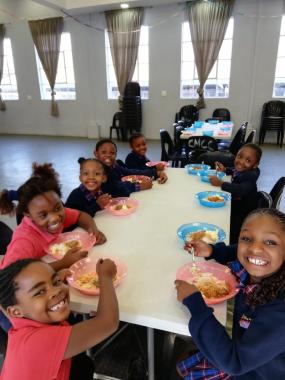 KidzZone AfterCare facility offers the following:
homework supervision
support to struggling learners
easy access to extra curricular activities
a variety of meals during the week. Children receive a warm cooked meal three times a week. 
supervised play time
Please refer to our Aftercare Policy for detailed information.
Please be advised that Mrs Dudu Moyo, Mrs Sibusisiwe Tshuma and the Aftercare Team are entirely responsible for the implementation and success of the Kidz Zone AfterCare. All queries must be directed to them.
This is a worthwhile endeavour and I trust you will give them your support as the service they provide is a valuable one. Your children will be safe, cared for and supervised!