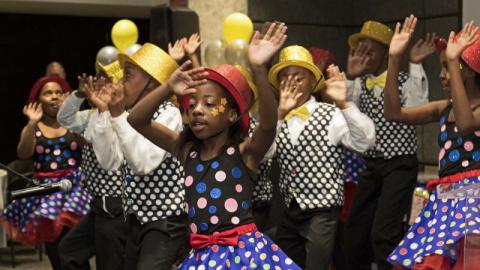 CityKidz held their Broadway Gala Fundraising Evening on 09th May at Houghton Golf Club. With over 240 guests in attendance the evening proved a roaring success.
Arriving to a pre-drinks and canapés reception, guests were wowed by the Broadway-themed layout. Upon entering the main hall, guests were once again wowed by the Playbill Broadway themed décor. The venue was completely transformed.
As the food and drink started flowing so did the entertainment. Proceedings were hosted by TV star and comedian Chris Forrest. The evening's entertainment was also provided by the CityKidz Junior choir, the CityKidz Revue group and a line-up of brilliant, hilarious up-and-coming comedians; Mojak Lehoko, Lihle Msimang and Ebenhaezer Dibakwane. Stan Sussman the illusionist provided a touch of magic.
Jacques Lagesse provided musical entertainment throughout the night. His 'rich' and 'velvet-lined' vocals enhanced the Broadway themed evening. The glamorous hostesses, teachers from CityKidz, gave heartfelt speeches about their experiences at CityKidz.
Prizes for the best dressed were given and many guests received brilliant prizes when their raffle tickets were drawn.
Principal Mrs Sharon Reynolds and Deputy Principal Mrs Tanya Krain worked tirelessly to put the Broadway Gala Evening together. The Gala Committee also assisted with the event.
The Gala Dinner proved to be a huge success and we were very proud to be able to offer it as a way for guests to let their hair down during such a busy week.