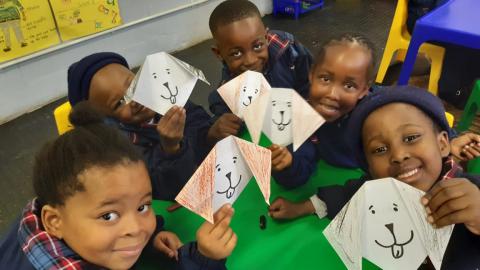 The Grade R and RR teachers and their learners were so excited to be back at school. They arrived with big smiles on their faces on the first day of Term 3. We welcomed Teacher Vee. Teacher Vee is no stranger to City Kidz, she has spent the last two terms familiarising herself with the way we work. The children absolutely love her!
To kick start the new term we started with an animal theme.
The art of folding paper is called Origami! We are having such fun learning the art of folding paper animals, such as dog shapes.  
Learning through play is an important part of our day. Children are learning how to build numbers using play blocks and moulding animals from play dough. 
For physical activities, the Grade R and RR learners ,alongside their class teachers, are enjoying Zumba dance sessions. This releases their energy and warms their bodies during the cold winter mornings. It is important to exercise both body and mind. Moms and Dads we suggest you try a Zumba dance routine with your child at home, it is such fun and a great way to bond with your child through dance.
We are looking forward to our  trip at the end of August to King David School, Linksfield.
Hip Hip Hooray for a fun filled Term 3!
Image Gallery: Happy to start Grade 3
Happy to start Grade 3
Click to view slideshow
Happy to start Grade 3
Click to view slideshow
Happy to start Grade 3
Click to view slideshow
Happy to start Grade 3
Click to view slideshow
Happy to start Grade 3
Click to view slideshow
Happy to start Grade 3
Click to view slideshow