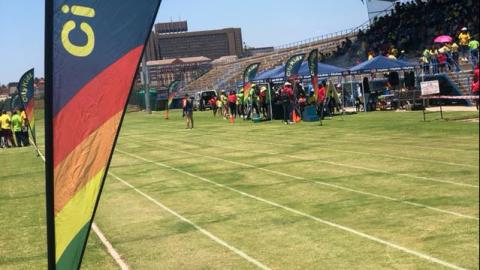 Our 2020 Sports Day was a great success. Staff gathered from 7.00 am to begin setting up gazebo's and event equipment for the day's activities. Children and staff arrived dressed in their coloured house t-shirts to show their allegiance to their respective houses.
The field events, the sprints, started promptly at 8h30 with great enthusiasm. The novelty races provided a good blend of fun and mass participation, with events such as the three legged-races and water balloon relay, but also fierce competition between Houses. The team relays always provide great excitement. Eland started off with a bang, they turned up in their numbers but did not clinch the deal. Roan supported each other, they cheered despite the increasingly inevitable result of third place. They are the house that exemplifies the phrase, 'It's not the winning but the taking part that counts.' Impala House sprinted ahead and emerged victorious! The day ended with Parent's relay races and the Tug of War.
Well done to all parents and children for creating such a positive, enthusiastic school spirit on the day; a great display for all our CityKidz family. Thanks also to our staff especially, Mrs Strydom and Mr Hill, who put in many hours of work, particularly before the event in preparing for a spectacular well-run Sports Day.
Image Gallery: Sports Day 2020
Sports Day 2020
Click to view slideshow
Sports Day 2020
Click to view slideshow
Sports Day 2020
Click to view slideshow
Sports Day 2020
Click to view slideshow
Sports Day 2020
Click to view slideshow
Sports Day 2020
Click to view slideshow
Sports Day 2020
Click to view slideshow
Sports Day 2020
Click to view slideshow
Sports Day 2020
Click to view slideshow